The countdown to Christmas is well and truly on! our full range of Christmas meats are now available to order.
Perth Butcher, Silvestro Butchers specialty hams are sourced directly from local Free Range Pork Farmers. We use traditional methods handed down in order to deliver Full Flavoured Silvestro Ham.
With just under a month until Christmas, the ovens are preheated and ready to cook up a storm! 
Our Christmas Specialty, Turducky, consists of a boneless Chicken, inside a boneless Duck, inside a boneless Turkey, all stuffed with onion, garlic, figs, sage, thyme, pecans and brandy and makes the perfect roast. Compliment with one of Our Succulent leg hams to impress your guests and steal the show this Christmas.
From the intimate family dinner to the magnificent family feast, we have all your meat needs covered. Pair them with some delicious sides and wow your guest.
Our products have been carefully prepared in-house and are made with the freshest seasonal ingredients available.
Running out of time? Our Christmas menu is Available Cooked or Uncooked! We even offer meat delivery in Perth.
A small charge will apply if you require any menu item cooked.
Pre-order now to avoid disappointment. For further enquiries, visit our online butcher shop or call us 6478 0894.
Helpful hints
We recommend that all beef and lamb products be served hot, as this will enable easy carving.
Turkey, chicken and pork, however, will slice better if cooked the day before. You can serve these cold, or re-heat already sliced.
Holiday Trading Hours
Christmas Eve             7 am – 3pm
25 – 28th December   CLOSED
29 – 31ST December   7am – 3pm
1 – 4th January           CLOSED
5th January                 Normal Trading
How to place your order?
Perth Butchers, Silvestro Butchers are taking orders from now and we strongly recommend to place orders for whole turkeys, free range hams and dry aged meats as stock is limited.
To order you can either visit our shop and order in person, email sam@silvestrobutchers.com.au or call us on 6478 0894.
Christmas meat price list: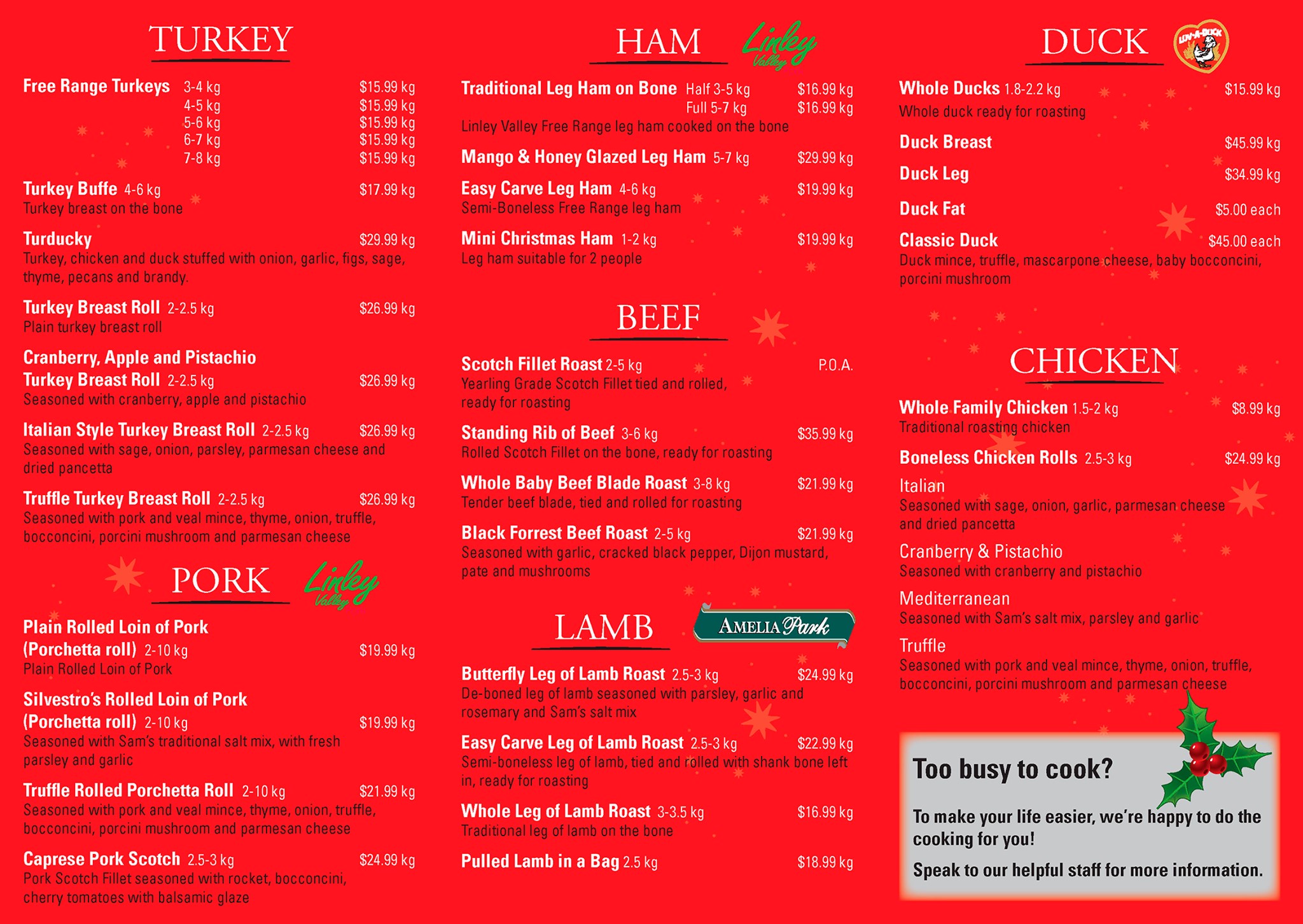 From Sam Silvestro and all our staff at Silvestro Butchers we wish you and your loved ones a very safe and wonderful day. Merry Christmas!